A
Process Design
You know the needs of your small business. From concept to operation, you developed an idea into something real. We understand the unique challenges you face running a small company which cannot be solved with out of the box solutions. Are you ready for the next level? Let Cloud and Web Services improve your business processes to streamline response time, improve customer support, and find efficiencies through building a technological framework that will grow as your business grows.
B
Custom Apps
Enterprises of every size need custom business applications to meet their needs. Our solutions range from structured collaboration tools to referral management systems. We identify applications to make your business run better and then work with you to develop and integrate those custom applications into your everyday world, bringing your vision to life.
C
The Cloud
Today's businesses have both tangible and electronic assets. Utilizing cloud services means that your data is with you anywhere; safe, secured, with limitless potential to expand without the high price of investing in internal hardware infrastructure. Cloud and Web Services helps your business keep up with the ever growing demands for data management with the expertise of knowing how to safeguard it.
About Us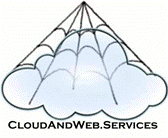 The staff at Cloud and Web Services, LLC has been providing custom web applications, cyber security solutions, and helpdesk support to small businesses and non-profits since the mid 1990's.